Bromo is locatedin the area of Bromo TenggerSemeru National Park (TNBTS) as included in 10 New Bali destinations, a destination priority of the Government. The Bromo Mountlandscape has indeed been popular even in the eyes of the whole world. It's no more surprising once you witness a lot of tourists from all over the world wandering around Bromo.
Not without cause, this popularity is significantly high-rocketing since Bromo has a graceful and charming golden sunrise. Perfected with cloud that makes you feel like you are in the dreamland. You must witness yourself to admire Bromo's beauty. Well, here are the sunrise spots of Bromo that you really have to visit.
Bromo Sunrise on Penanjakan 1 (Climb 1)
If you have never been to Bromo, do not miss the main viewpoint to watch this Golden Sunrise. From this spot, the charming sun will rise with the background of Mount Semeru and the three mountains in this national park area; Mount Bromo, Mount Batok, and Mount Kursi. The clouds seemed to envelop the mountains, forming a beautiful caldera. Combined with a golden hue, sunrise Bromo will really captivate you to return.
To get here, start from Bromo Terrace in Ngadiwono Village, Tosari, Pasuruan using a Jeep or Hartop. We recommend that you rent this Jeep or Hartop in advance. The rental costsisaroundIDR. 750.000-1.000.000 with the capacity of up to 6 people. Since the trip to Penanjakan 1 (Climb 1) takes around 45 minutes, it is recommended to go from here at least at 3 a.m.so you will not miss Bromo Sunrise moment.
The road to the viewpoint is paved and twisted like a mountain road. On the way, you will pass several other viewpoints to enjoy the sunrise. There are Kingkong Hills and Bukit Cinta which are only a few hundred meters away. When approaching the checkpoint—on the side of the road—there are several shops selling snacks, warm drinks and various souvenirs. Several facilities are also available here, such as lodging, public toilets, prayer rooms, and so on.
While waiting for the sunrise, you can also just warm up your body by sipping a glass of coffee at the stalls. Once you feel satisfied to warm up, you need to immediately climb dozens of stairs to arrive at Penanjakan 1 so you can choose the best place to witness one of the best sunrises in the world in Bromo. Penanjakan 1 viewpoint is in the form of a semicircle and looks like the stands of the stadium. In total, there are ten levels.
Due to the popularity of this spot, you need to jostle with other tourists. Moreover, at weekends, you need to get ready to stand in the front row before the sun starts to raise its light if you don't want your view to be blocked by people's heads.
Bromo Sunrise on Kingkong Hill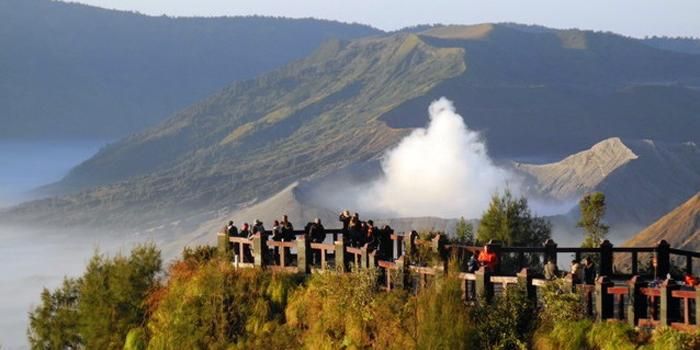 Tengger people call this Bromo sunrise spot Kadaluh. This name means hope that this region will be given fertility. It was named asKingkong Hill since there was a part of the cliff with a prominent stone that resembled the head of a King Kong and the surrounding basin looked like the eye part. The height of this hill is 2600 masl and the path to the summit is more uphill compared to Bukit Cinta (Love Hill). The location of the two is about 2.5 kilometers from Penanjakan 1. So, this hill is closer to Penanjakan 1 than Bukit Cinta.
The charm of this hill is certainly not inferior to Penanjakan 1 even though its height is lower. Three mountains that can be seen from Penanjakan 1—Mount Bromo, Batok, and Semeru—can also be seen much more clearly from this viewpoint. The sensation of the dreamland on the clouds feels incredibly surreal.
From the Bromo terrace in Tosari, you only need 40 minutes to get to this hill. Arriving on this hill, you will discover a row of food stalls made from bamboo. Just like in Penanjakan 1, you can also stop by to sip ginger tea since the air here can make you shiver with cold.
Afterward, proceed with the trail to the top of the hill. This dark road will take you to a field on a hill after 200 meters. The field was surrounded by concrete fences for the security causes. Around half past five in the morning, an orange tinge will begin to appear welcoming you.
Compared to Penanjakan 1, this hill is indeed much quieter so it seems less crowded. If you come here, you do not need to fight to get a place. The tourists who come here also usually start from Malang or Probolinggo so they will not miss the sunrise of Bromo.
Bromo Sunrise in Bukit Cinta (Love Hill)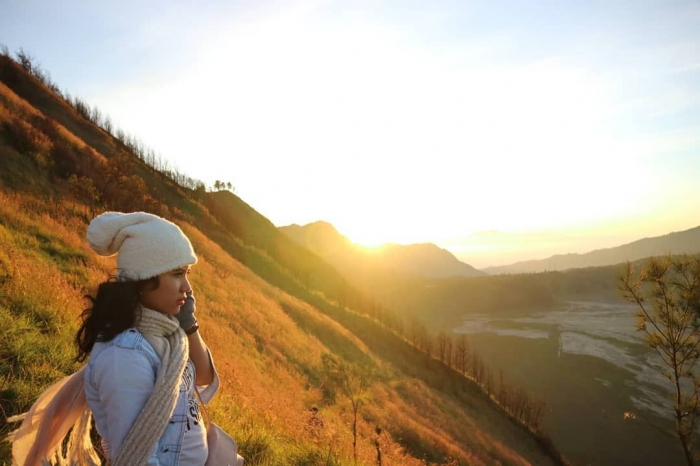 If you want to find a place to see sunrise Bromo that is full of romance, just come to Bukit Cinta. The residents around this place called this place as Lemah Pasar and used for traditional ceremonies. The reason behind the name of Bukit Cinta(Love Hill) itself is because once there was someone who found his heart here, namely Joko Seger and Roro Anteng. Then they came back as husband and wife and gave the name of this hill as Bukit Cinta.
There are also myths if there is one name that you think continuously from the start up to the top, he/she is your soul mate. If you are single, just can simply try to climb this hill. Who knows, you can meet your soul mate or the person you dream of can be your soul mate, right?
The location of this hill is not far from Penanjakan 1, which is only five kilometers. When the sunrise, it looks as beautiful as inPenanjakan 1; it looks like as you are in the sea of ​​clouds in front of you. Mount Batok, which is also in this national park, beautifully sticking out from the clouds.
To get to the top of Bukit Cinta, you need to walk uphill after parking the jeep around the foothills. Prepare yourself to face hundreds of steps in front of your eyes. But after reaching the top, your hard steps seem to be paid off. It is not only because the sunrise, but the scenery here is even more appealing of the sunrise. The people who usually come here are those who are late hunting down sunrise at Bromo in Penanjakan 1 or even after coming down from there.
Several other mountains can also be witnessed here with the blue sky after the sun rises. Next is a sea of ​​sand that stretches out before your eyes. Bromo crater looks poking behind Mount Batok. Behind it, Mount Semeru appeared as a background. When turning the body, Mount Penanggungan and Mount Arjuno will appear to spoil the eyes.
Bromo Sunrise in Bukit Mentigen (Mentigen Hill)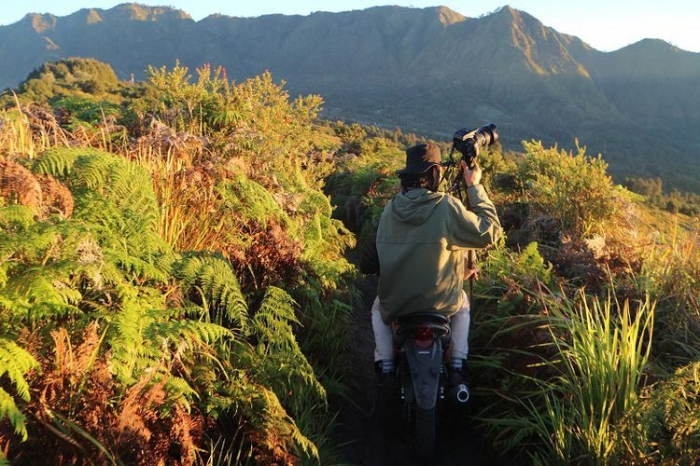 If you do not want to ride a jeep, you can also enjoy Bromo's sunrise from this spot. The place is not far from the entrance gate of Bromo TenggerSemeru National Park, which is in CemoroLawang, Ngadisari Village, Sukapura, Probolinggo. Therefore, this hill is usually visited by those who only hunt the sunrise. Simply walking or trekking for 20 minutes from the gate with "Welcome to Seruni Tourism Object" greeting to reach the observation point. In addition, you can use a public motorcycle service that costs IDR.50.000 to commute from Bukit Mentigen parking lot or IDR.75.000 to commute from CemoroLawang.
The atmosphere on this hill remains very natural with paths and various ferns and Cantigi (Vaccinium varingifolium)on its sides. When you reach the top, your eyes will be parallel to Mount Bromo and Mount Batok. Even though it is not as tall as Penanjakan, from this hill you can see the sunrise of Bromo with a stretch of clouds and a sea of sand in the Tengger Caldera.
Bromo Sunrise on Peak B29 and B30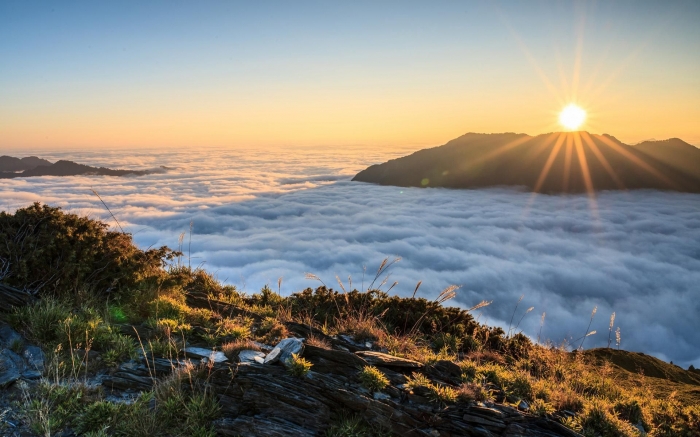 These two Bromo tours are widely viral. The distance between the two is close so you can enjoy Peak B30 when you enjoy the sunrise on Peak B29. The naming of the two are actually based on the height, Peak B29 which is located in Lumajang district has a height of 2900md, while Peak B30 which is in the district of Probolinggohas a height of 3000mdpl.
From downtown Surabaya and Malang, you need to take a private vehicle because there is no public transportation to get there. After arriving at the gate Kawasan Wisata Negeri di Atas Awan, if you drive your car or Jeep, you need to change to use motorcycle taxi since the road is very uphill. Even though along the way it feels hard to test with rocky roads and slippery land when it rains, you will be spoiled with clouds rolling up and the whole TenggerSemeru National Park.
Well, if you want to experience the exoticism of sunrise on Bromo tourism, happy news comes out because you can go there with JadiPergi. Just open the JadiPergi site or install the application in your device right now!
JadiPergi, Your Vacation Inspiration!.
To book Bromo Tourism Packages, please contact :